Principal's Expertise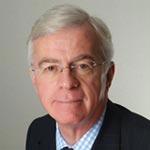 Michael Pritchard gained his formative technical expertise at the Bovis construction group. He moved into real estate through joining Metropolitan Property Developments Ltd.
This gave a fortuitous blend of competences, comprehending the detailed needs and speaking the languages of designers and construction professionals along with valuers, lawyers and investment advisors.
He turned from 'poacher' to 'gamekeeper' by forming CRCL, a respected firm of real estate experts supporting occupiers of all types of commercial property. In 2008 he merged that consultancy with two others to form Trilogie CRE.
He is now available to help formulate 'politics-free' strategic decisions and steer corporate clients' plans through all the technical and commercial aspects of property development and management, identifying opportunities for 'wins' from start to finish of every case.
He has helped steer the life cycle of many clients' properties from strategy to development, or procurement of existing properties, from day to day management to redevelopment or disposal of outmoded space.
Through Eighty 20 he delivers proven added value by supporting clients' boards from the strategic phase to execution.
Clients cherry pick according to their needs and their in-house capabilities. In this way maximum value is achieved through accelerated decisions and execution.
His experience in the merger of his firm with two other consultancies has endowed him with a rare insight into the qualities to be sought and pitfalls to be avoided in the merger of companies employing professionals.